We're beyond the point where leadership can assume their organization will never be affected by a cybersecurity attack. It's no longer a question of if, but when, and whether the cybersecurity programs will effectively mitigate an attack's repercussions. IT teams realize the value and need for a comprehensive cybersecurity solution.
However, getting buy-in from the rest of the C-Suite can still be difficult, especially as cybersecurity programs mature and the solutions needed become increasingly technical. Recent research shows that 54% of CISOs feel their board did not provide ample investments in cybersecurity, and only half of the C-suite executives named cybersecurity a top priority. In addition, over 60% of security leaders report feeling unsupported by the board when it comes to mitigating cyber risk.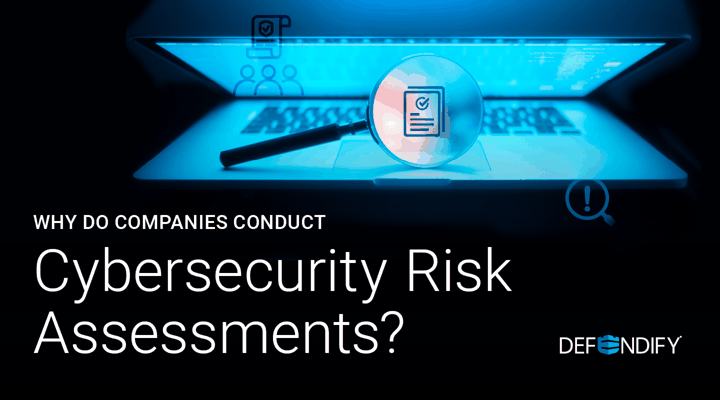 Short on time? Scroll to the bottom for the cliff notes.
Non-IT leadership needs to understand how comprehensive cybersecurity solutions will benefit business operations, including the impact on profit margin and how IT teams can measure the effectiveness of solutions. To do this, organizations need to set a baseline against which all future progress can be measured – starting with a cybersecurity risk assessment. 
Identifying The Known Unknowns
As cyber threats continue to increase in frequency and severity, organizations face vast amounts of risk if left unprotected. Achieving buy-in relies not just on communicating the impact of implementing a comprehensive cybersecurity program but also on communicating the potential repercussions of inaction. Proactive recognition, remediation, and mitigation of security threats are rising challenges for global businesses today. While the upfront costs associated with cybersecurity implementations may cause hesitation, the price of neglecting cybersecurity can be even greater. 
So, why do companies conduct cybersecurity risk assessments? Security assessments are periodic exercises that examine your company's security preparedness, allowing you to identify risks and reduce the likelihood of future cyberattacks. A cybersecurity risk assessment enables organizations – and their leadership – to understand their cybersecurity health and provide a baseline for improvement. By comparing the results of a cybersecurity risk assessment to accepted industry frameworks, organizations can determine existing risks and work to mitigate them. Without this baseline, it can be nearly impossible to define success or determine metrics that demonstrate improvement or showcase the value of cybersecurity programs. 
Recently, the Defense Department put out a call for the National Institute of Standards and Technology (NIST) to help organizations determine how they should assess risk associated with systems when deciding what security controls to implement for their protection. Using third-party validation such as NIST's frameworks, HIPAA, or GDPR, establishes credibility for an organization's cybersecurity assessment. By ensuring that the assessment is based on accepted industry frameworks, organizations can follow cybersecurity best practices to improve their cybersecurity programs. The pressure from the DOD may take this a step further, encouraging NIST to include guidance on how organizations can prioritize the risk identified during assessments, including how much risk they are looking to address or are willing to accept. 
We Can't Boil the Ocean
The function of a risk assessment is to identify current risks to your organization. Because not all organizations or industries are alike, every cyber risk looks different to each organization depending on its definition of risk tolerance. By conducting a cyber risk assessment, IT teams can identify existing risks and how they affect the organization before prioritizing them and dedicating resources to those that need them most. 
Risk can be prioritized based on industry, the size of a business, and the likelihood of a cyber threat occurring. For example, financial institutions might have a different risk tolerance during tax season, given the increased likelihood of a cyber threat taking place and the wider spread impact if an attack is successful. Ultimately, organizations must take the results of a cyber risk assessment and determine how each risk maps back to business priorities – how do the risks affect your bottom line? Which ones are you willing to accept, and which ones affect your ability to do business? Which needs to be addressed ASAP, and which can wait?
When it comes to leadership buy-in, it would be easy to veer into the fear-mongering territory, given the amount of potential risk that grows each day. To avoid creating "Chicken Little Syndrome" among leadership – that is, making sense of passivity or paralysis due to overwhelming catastrophic conclusions – cybersecurity conversations should focus on the most immediate and realistic risks as justification for a solution or the actual cost of cybersecurity solutions. There is no way to justify cybersecurity expenses if leadership doesn't understand cyber risk and how it might affect an organization, but inspiring fear paralysis won't do anyone any good. 
Comprehensive and Continuous Cybersecurity
Addressing risk may seem daunting and could require additional investments in technology solutions, as well as changes to internal or external processes. It may even require hiring new people to achieve objectives. Once risks are identified, organizations should determine where to invest resources based on risk priority in order to mitigate the identified risks. With the baseline of a cybersecurity risk assessment, organizations can understand where their cybersecurity stands and measure and set goals along a path toward success. 
It's also important to remember that cybersecurity is not just a project but a posture. Cyber risk assessments aren't a one-and-done deal and should be conducted regularly to identify how your organization's risk is evolving, whether your cybersecurity program is effective, and what areas still need improvement. With regular feedback from cyber risk assessments, IT teams are armed with the information necessary to get leadership buy-in, ensuring everyone understands the biggest cybersecurity priorities and how to mitigate the most pressing risks. 
TL;DR
IT teams realize the value and need for a comprehensive cybersecurity solution but getting buy-in from the rest of the C-Suite can still be difficult.
IT Leadership can use a cybersecurity risk assessment to identify cyber risk and effectively communicate to Non-IT leadership the

impact of implementing a comprehensive cybersecurity program

and the potential repercussions of inaction.
Not all organizations or industries are alike. Organizations must

determine how each risk maps back to business priorities.

Cyber risk assessments aren't a one-and-done deal and should be conducted regularly to identify how your organization's risk is evolving