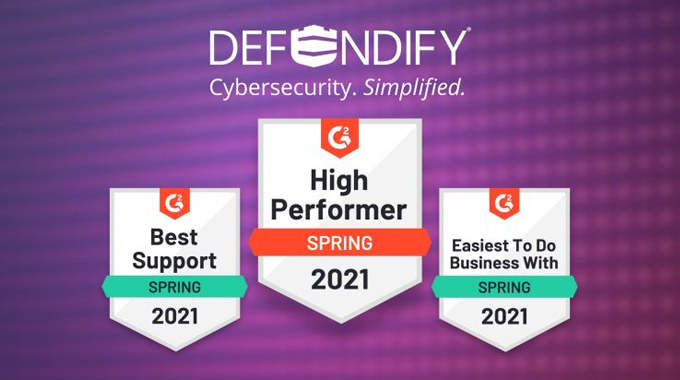 Defendify was listed in Spring 2021 G2 reports as a High Performer, as well as having the Best Support and being Easiest To Do Business With.
G2 report rankings are based on unbiased user reviews of the Defendify cybersecurity platform between January 1, 2021 and March 2, 2021.
Defendify G2 Categories and Rankings
New to G2, Defendify was quickly listed in two separate G2 Grid® categories: Vulnerability Scanner and Website Security. In addition, Defendify earned 100% user satisfaction in both Quality of Support and Ease of Doing Business With categories, ranking higher than any compared business.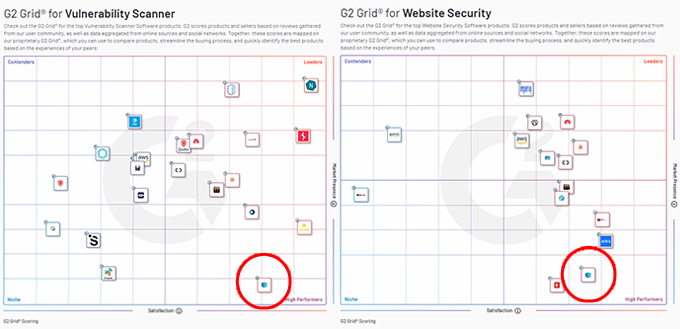 Defendify is also now listed in 4 additional categories: Incident Response Software, Security Awareness Training Software, Penetration Testing Software, and Managed Detection and Response (MDR) Software.
Who Uses Defendify?
Defendify has thousands of users throughout multiple industries around the globe including manufacturing, wholesale, business services, healthcare, retail, education, finance, and construction. Organizations without an in-house IT security team, and other needed security resources, turn to Defendify to build a stronger cybersecurity because it delivers multiple robust cybersecurity tools within a single platform. The Defendify cybersecurity platform helps customers remove the complexity of building and managing a strong cybersecurity program by incorporating smart technology, automated processes, easy-to-understand reports, and a team of cybersecurity professionals detecting and responding to malicious activity 24/7.
What Defendify Users Say
G2 asked users to provide honest feedback about their experience with the Defendify cybersecurity platform. Below are some of the more recent comments:
"Easy to use, and Super Support" (5 stars) | IT Manager (Mid-Market company)
"Defendify - Excellent product, excellent price." (5 stars) | Admin (Mid-Market)
"Simple, Professional and Spot On" (5 stars) | Admin (Small Business)
"Great partner with an innovative, well-rounded and human-focused approach to cybersecurity" (5 stars) | VP, IT (Small Business)
View more Defendify user reviews at www.g2.com/products/defendify-cybersecurity-platform
---
See more awards earned by Defendify at www.defendify.io/awards