Defendify is is proud to be listed as an Industry Champion in the first-ever 'Identity Management Day,' an annual awareness event that will take place on the second Tuesday in April each year. The inaugural Identity Management Day will be held on April 13, 2021. 
Identity Management Day, founded by the Identity Defined Security Alliance (IDSA), aims to educate and engage business leaders and IT decision makers on the intersection of identity management and security. In addition, the National Cyber Security Alliance (NCSA) will provide guidance for consumers, to ensure that their online identities are protected through security awareness, best practices, and readily-available technologies.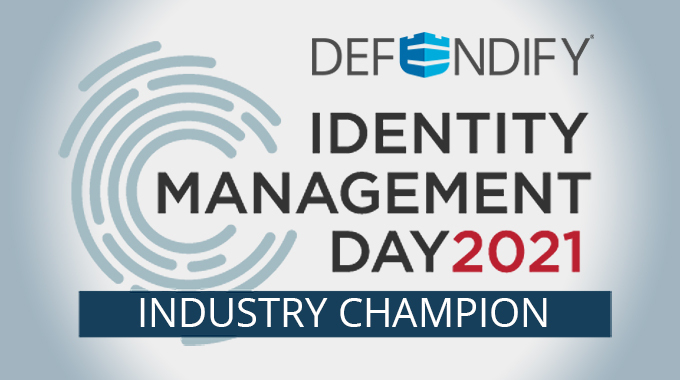 Free Stolen Password Scan
To support this exciting initiative, organizations without IT security teams can get a free Stolen Password Scan from Defendify. One of many tools within Defendify's all-in-one cybersecurity platform, the Stolen Password Scanner combines human and sophisticated Dark Web intelligence with search capabilities to identify, analyze and proactively monitor your organization's compromised or stolen employee and customer data. This way, you know when a compromise might have happened, and it's time to consider changing passwords.
Run a free stolen password scan at www.defendify.io/free-stolen-password-scan
Identity Management Awareness
According to Julie Smith, Executive Director of the IDSA: 
"Raising awareness around identity management is especially critical after a barrage of identity-based breaches made headlines in the past year, including Twitter, Marriott, and Nintendo. Research

 by the IDSA reveals that 79% of organizations have experienced an identity-related security breach in the last two years, and 99% believe their identity-related breaches were preventable."
"Compounding this, the ongoing pandemic has accelerated digital transformation initiatives that support changes in how we work and how we live day-to-day, putting organizations at greater risk. Our hope is that Identity Management Day will result in higher prioritization of identity security and, as a result, fewer data breaches in 2021 and beyond. We are grateful for all of the support from IDSA and NCSA member companies and the broader industry to further this mission."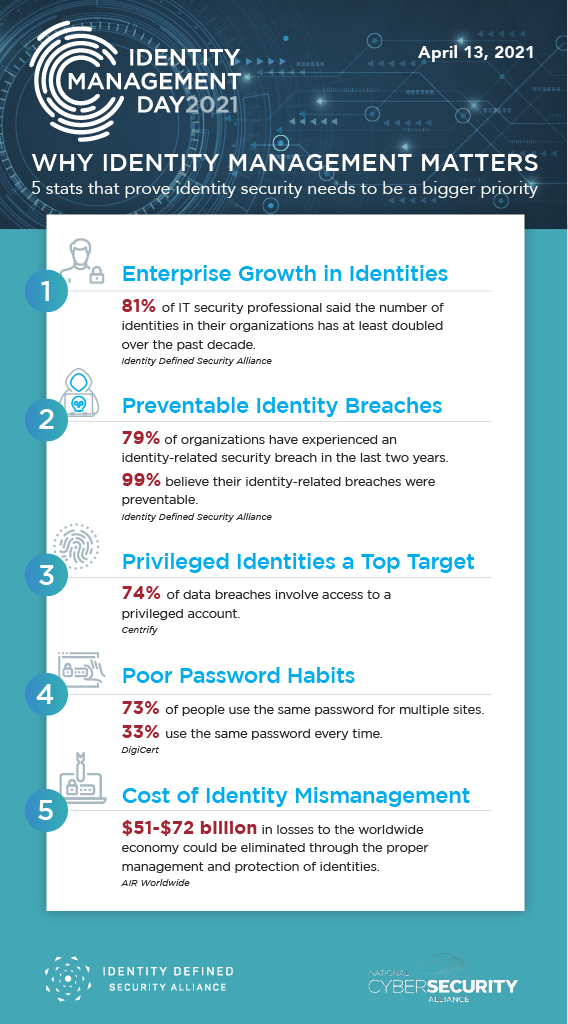 Tips to Keep Your Passwords Secure
The Identity Theft Resource Center® (ITRC) reported that cybercriminals continue to be less interested in stealing large amounts of personal information directly from consumers. Instead, take advantage of bad consumer behaviors to commit identity-related crimes against businesses using stolen credentials like logins and passwords. Criminals use these credentials to make ransomware and phishing attacks against businesses. 
One way to strengthen your cybersecurity posture is by having specific password policies and guidelines that dictate the complexity of passwords that employees should be using and whether they can recycle their passwords (use them across multiple accounts). 
 Here are a few tips to keep your passwords and identity secure:
Avoid personal information. 

It's just too easy to guess. What's more, dictionary attacks sometimes use a compiled personal information database to more guess passwords.

Make it long. 

When you add characters to a password, the number of possible combinations for a brute force attack grows exponentially. Experts recommend at least 13 characters, but this recommendation will increase as brute force attacks become faster and more advanced.

Don't recycle passwords. 

It's important not to re-use a password, no matter how strong. If one account is breached, the first thing an attacker will do is try the same login for other, potentially more critical, sites.

Use Passphrases.

 A long, strong, and memorable passphrase is one excellent method. For example, use a string of unrelated words, ideally with extra characters (e.g., "hammer-jumping Fuzzy Creator." Or try a longer sentence like, "I want to eat some cotton candy!". And you can find a whole lot more from ConnectSafely.
About the Identity Defined Security Alliance (IDSA)
The IDSA is a group of identity and security vendors, solution providers, and practitioners that acts as an independent source of thought leadership, expertise, and practical guidance on identity centric approaches to security for technology professionals. The IDSA is a nonprofit that facilitates community collaboration to help organizations reduce risk by providing education, best practices, and resources.
To learn more about and get involved in Identity Management Day 2021, please visit www.identitymanagementday.org and check out #IDMgmtDay on Twitter and LinkedIn.  
---
More Resources for Identity Management and Awareness:
Knowing the ABC's of Cybersecurity: Strategies to build a strong cyber-posture
Secure IT: Recycle Your Paper, Not Your Passwords