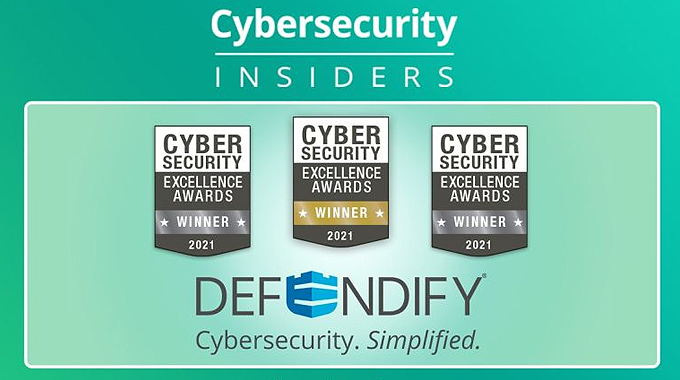 Cybersecurity Insiders announced the winners of their 2021 Cybersecurity Excellence Awards, where Defendify was listed in the Most Innovative Cybersecurity Company, and Best Cybersecurity Startup categories.
Awards are given by Cybersecurity Insiders editors to companies who have demonstrated innovation and leadership in the information security space.
Excellence in Cybersecurity
With a sharp increase in cybercriminal activity in 2020, thousands of organizations around the globe have turned to Defendify to streamline cybersecurity assessments, testing, policies, training, detection, and response.
Of their experience using Defendify:
Defendify makes it simple to get started with building your companies compliance or cybersecurity program. The interface is clean and simple to use which means you can get started quickly.
Director, IT & Cybersecurity (Mid-Market Organization)
Also recognized by Cybersecurity Insiders as the Best Free Cybersecurity Tool, Defendify had released the free Cybersecurity Essentials Package at the start of the COVID-19 pandemic which includes a cybersecurity assessment, an automated network vulnerability scanner, and a threat alerts system.
Check out the full list of Cybersecurity Excellence Award winners at www.cybersecurity-excellence-awards.com
---
See more awards earned by Defendify at www.defendify.io/awards