Defendify has been listed as a High Performer in four data security software categories on the peer-to-peer review site, G2.com. In addition, Defendify earned top rankings for having the Best Support, Being Easy to Use, and being Easiest To Do Business With.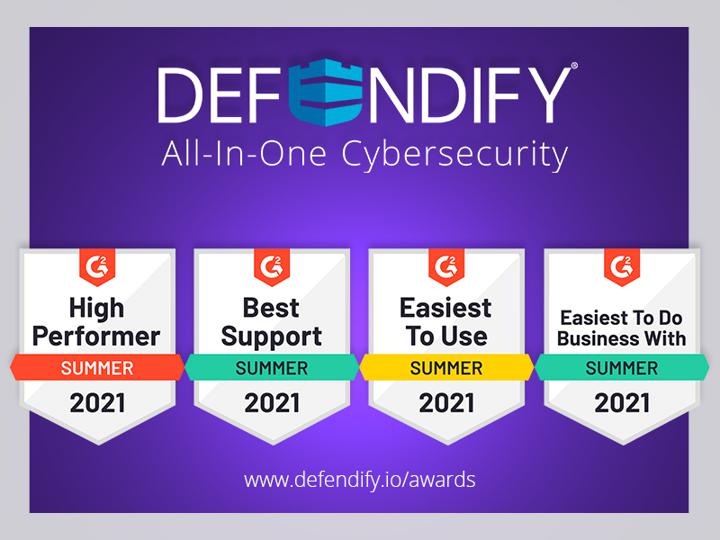 G2 Summer 2021 Grid® Reports with Defendify
G2 released their Summer 2021 Grid reports on June 22nd, listing Defendify as a High Performer in the software categories of System Security Software, Vulnerability Scanner, Website Security, and Penetration Testing.
Within each of these lists, Defendify received 100% user satisfaction ratings in the Quality of Support and Ease of Doing Business With categories, and 97% satisfaction rating in the Ease of Use category. In addition, Defendify ranked among the top 5 software companies to meet user's security software functionality requirements.
Defendify is also listed under the G2 software categories of Incident Response Software, Security Awareness Training Software, and Managed Detection and Response (MDR) Software, and was recently added to the categories of Dark Web Monitoring Software, Threat Intelligence Software, and Breach and Attack Simulation (BAS) Software.
Streamlining Holistic Cybersecurity
Organizations that do not have their own security team on staff use Defendify's all-in-one cybersecurity platform to help build and manage a stronger, more comprehensive cybersecurity program.
The Defendify cybersecurity platform streamlines cybersecurity through a combination of smart technology, automated processes, easy-to-understand reports, and a team of cybersecurity professionals who monitor, detect, respond, and contain cybercriminal activity 24/7. All Defendify customers are assigned a dedicated Cybersecurity Success Manager, who not only helps users optimize the Defendify cybersecurity platform, but also provides guidance on ways to increase overall cybersecurity strength.
Learn more about the Defendify cybersecurity platform at www.defendify.io/features.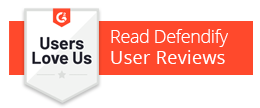 G2 Reviews from Defendify Users
G2 asks users to provide honest feedback about their experience with the Defendify cybersecurity platform. Below are some comments from recent reviews:
"Defendify explains each part of the security process. They will guide you in best practices and provide templates for documentation and everything you need." - Ryan J. | IT Director
"With Defendify, it was immediately clear how improving our cybersecurity posture drives internal best practices, protects our most valuable resources, and even creates competitive advantage" - IT Engineer
"Defendify has been been a cultural transformation that's helped us and our clients have a significantly improved (and improving) security posture." - Joshua P. | vCIO/Cybersecurity
View more Defendify user reviews at www.g2.com/products/defendify-cybersecurity-platform
---
See more awards earned by Defendify at www.defendify.io/awards