It's that time of year—hello: shop till you drop! Like most, you're probably distracted with the holidays, but you may be forgetting one important gift: comprehensive cybersecurity and data breach detection for your business.
For organizations of every size, it's even more critical during the holidays to make sure your data is not at risk from cyberattack. That's where data breach detection and response comes into the picture as an important adjunct to any cybersecurity solution.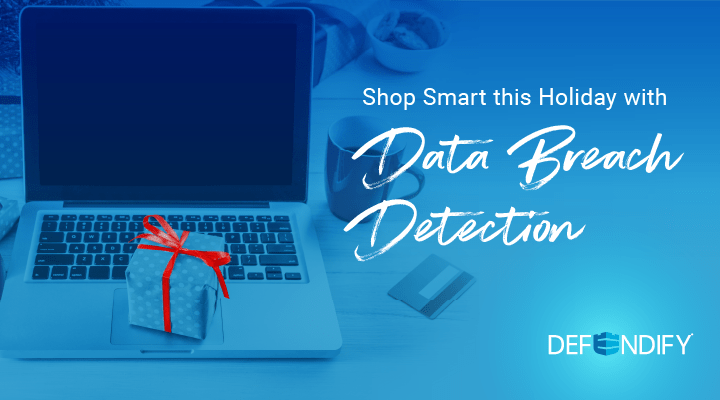 Cyber-attackers are Grinch's
Bad actors do what they do best during the holidays—prey on unprepared companies with phishing, ransomware, email compromise, and other orchestrated takeovers. For companies without a dedicated IT team, or those dealing with ongoing IT staffing shortages, being diligent means deploying the latest automated cybersecurity resources.  
Ransomware continues to tick up as cyber-attackers take advantage of relaxed attitudes and a vacation-bound workforce. There's a long list of past system compromises that occurred during holidays and long weekends, including the 2013 Target breach a day before Thanksgiving and the SolarWinds breach 2020 centering around the Christmas holiday.
Breaches Magnify
It's extremely difficult for non-enterprise organizations to identify and respond to active threats during regular hours, never mind during the holiday season. Fact is, the holidays are the perfect time for malicious actors to try to get into your network and systems—while you're downing that glass of eggnog or puckering up under the mistletoe.
On December 16, the Biden Administration's cybersecurity officials warned business leaders to be on guard against cyberattacks during this upcoming holiday season, noting that hackers are often more active when Americans take time away from work.
As employees enjoy the holidays, perhaps working from home while the kids wrestle over Elf on the Shelf, distractions occur, and innocent mistakes happen. There's even more chaos on the horizon as grandparents, siblings, and other relatives descend upon the home, aka, temporary office as employees work from home.
Data Breaches Can Go Unnoticed
Holidays are ideal times for attacks to happen and lead to a more difficult road to discovery, as breaches may lay undetected for longer periods. Yet some 24% of organizations do not have a contingency plan to ensure a rapid response over holidays and weekends.
Forensic and response teams provided by cyber insurance providers and others also have skeleton crews; therefore it may be days or weeks before someone can come in and help if a data breach is detected.
In addition to a thin IT staff, employees are traveling for the holidays and may be difficult to reach in an actual emergency. They may be connecting to public Wi-Fi in coffee shops, airports, or other hotels.
When they need to pick up a gift on the run, they may resort to using company owned devices to make their purchases. Online shopping is not as secure as hitting the mall, according to Duke University, as credentials can be used by anyone virtually without having that person physically present—as opposed to a retail store setting.
Other heightened data breach risk factors may include social engineering from out-of-office replies, sharing personal posts that can be used for attacks, and scam emails and SMS messages that open the network to greater vulnerability and potential takeover.
Seeing Through the Holiday Fog
There's a general lack of visibility to threats omnipresent, and how do you piece together all these levels of compromise without seeing the whole picture? Threats use various vectors or string-together tactics—unusual activities occur through existing vulnerabilities, but an individual can't see the entire scenario at a glance.
 If you can't see or stop a threat, that could cause your operations on both sides to come to a halt, and it could risk your data. Malware mutations that seep into other programs create tens of thousands of variants, making many antivirus software programs that use static signatures significantly less accurate. 
You would need a large stack of tools to tackle the prevention, detection, and response of a cyberattack on your own, which would require multiple budget requests and costs which may simply be out of reach.
Getting a Clearer Picture 
The best data breach detection provides a complete picture across all your systems. Defendify's Breach detection and response module is automated, utilizing artificial intelligence to consistently scan for malicious activity across all device endpoints, systems, and networks. This type of detection eliminates as many false positives as possible using machine learning to detect targeted malicious acts accurately. 
For companies with employees working remotely, securing home networks—including computing, entertainment, and Internet of Things (IoT) devices is advised to prevent a cyberattack. It's even more important to educate employees to use separate devices for home and work activities.
One of the most effective ways for businesses without internal IT resources to address data breach detection is with an outsourced team for analysis and response that stays on call, even during the holidays. Coupled with a holistic cybersecurity approach that creates policies and a training program for employees while in the office and away on vacation, it also keeps safety nets up when your guards are down.
Stay Jolly with Defendify 
Creating policies and a training program is a task that can seem overwhelming, but it's part of an effective, all-in-one solution. The Defendify platform includes phishing simulations, interactive awareness training videos, awareness posters, classroom training, and even technology and data use policy to communicate expectations to employees and align security objectives with legal and compliance goals. 
Detection and response is a powerful layer of data breach protection that's included in Defendify's comprehensive solution. Within it are the advanced tools of BDR, threats alerts, and an incident response plan builder. According to IBM's Cost of a Data Breach Report, having an incident response plan and testing can dramatically reduce remediation costs associated with a data breach. 
Wherever the holidays may take you, Defendify has a team of security experts on your side who can respond to potential data breaches, take action and alert you of what's happening. We're your virtual CISO, arriving just in time for you to enjoy the holidays!
More Breach, Detection, and Response Resources:
Blog: Traveling for the Holidays? Ask Santa for Data Breach Prevention
Blog: Don't Let Cybersecurity Breaches Rob Your Holiday
Webinar: Why Cyberattacks Aren't Just for the Enterprise, and What To Do